Episodes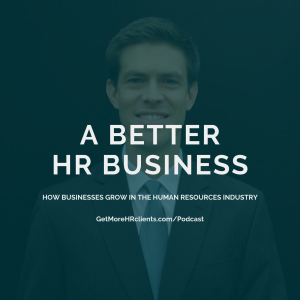 Monday Jan 24, 2022
Monday Jan 24, 2022
Today I'm joined by Kate Graham, Head of Content Labs & Insight at UNLEASH.
About UNLEASH: UNLEASH is a global digital media and events business delivering the latest news, analysis and market trends for HR, technology, learning, and recruitment leaders.
Since 2011, UNLEASH has served as a strategic transformation engine for Human Resources, built to inspire, connect and empower HR leaders worldwide to navigate the fast-changing world of work.
About Kate: With more than 18 years working in HR, talent, and learning and development, Kate works with practitioners, business leaders, vendors, and analysts to uncover trends and create research and content that supports the people and organisations powering HR tech worldwide.
For show notes and to see details of my previous guests, check out the podcast page here:
www.GetMoreHRClients.com/Podcast
WANT MORE CLIENTS?
Want more clients for your HR-related consultancy or HR Tech business?
Check out: www.GetMoreHRClients.com/Services.
WANT TO START AN HR BUSINESS?
Want to launch your own consulting business in the broad Human Resources sector?
Check out the guide and the new online course: www.GetMoreHRClients.com/blog/How-To-Start-An-HR-Consulting-Business.