Episodes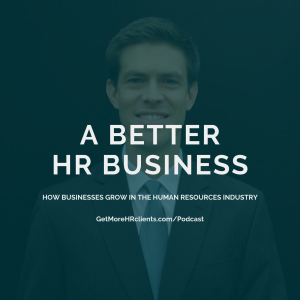 Monday Mar 27, 2023
Monday Mar 27, 2023
The A Better HR Business podcast looks at how consultants and tech firms in the broad Human Resources field grow their businesses; and how they help employers get the best out of their people.
Today I'm joined on the show by Andrew Lawson from Just Ninety on how and why he pivoted from delivering only in-person corporate training to adding a whole new line of ready-to-go corporate training materials online.
Just Ninety is an L&D business focused on helping professional trainers shorten the design curve for online course creation, by providing ready-to-go training courseware.
Andrew: "Our vision is to see trainers enjoying more work-life balance. These premium 90-minute courses for trainers are perfect for leveraging time and money."
Andrew has 25 years of experience as a facilitator and trainer, 15 years of experience as a coach and mentor, and is the founding director of Best Practice Consulting. Since starting Best Practice Consulting, Andrew has worked with hundreds of organisations. During this time, he has worked with many senior leadership teams to build purpose and unity, and embed organisational culture.
Andrew is an excellent facilitator, trainer, and consultant, dedicated to bringing results through tailored approaches. He possesses high-level group facilitation skills and is known for being people-focused, clear in his communication, and innovative in his workshop approaches. He is highly sought after for his facilitation and advisory skills. with senior leadership teams, intact work teams, and individuals.
The courseware designed by Just Ninety helps trainers to reclaim their time on designing training courses, which allows them to deliver more courses and generate more revenue.
In a wide-ranging discussion, Andrew and I talked about:
The tumultuous journey of reinventing a training business during the pandemic.
How Just Ninety started and whom it helps.
Using the AGES model to shape the Just Ninety concept.
The advantages of using ready-to-go courses.
Just Ninety's marketing growth strategy.
How L&D consultants, HR consultants, and other such businesses can partner with Just Ninety to add a new revenue stream and/or add value to their client engagements.
Andrew's marketing advice for people in HR businesses.
And much more.
Thanks, Andrew!
For show notes and to see details of my previous guests, check out the podcast page here:
www.GetMoreHRClients.com/Podcast
WANT MORE CUSTOMERS OR CLIENTS?
Want more clients for your HR-related consultancy or HR Tech business?
Check out: www.GetMoreHRClients.com/Services.
WANT TO START AN HR BUSINESS?
Want to launch your own consulting business in the broad Human Resources sector? Check out: www.GetMoreHRClients.com/Start for resources.