Episodes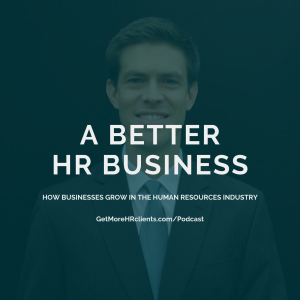 Sunday May 09, 2021
Sunday May 09, 2021
My guest today is Anthony Vaughan of Project 2030 [part of E1B2 Collective].
Anthony is a thought leader and fellow podcaster in the world of Employee Experience.
The E1B2 Collective seeks to change the way organizations design work and implement employee experience. 
Anthony joined me to share how he launched a career development program for HR managers to help them become CHROs.
Side Notes on a key concept we discuss ('Sell it before you build it'):
To see the list of topics as well as all the details of my other guests, check out the show notes here:
www.GetMoreHRClients.com/Podcast
WANT MORE CLIENTS?
Want more clients and/or want to position your agency or consultancy as a thought leader in the Human Resources industry? Check out: www.GetMoreHRClients.com/Services.
Also, if you're looking for more ideas to help you grow your HR-related business, here's something that might help . . .
Check out my free presentation (no signup required) on 10 clever ways that successful consultancies are bringing in more business.
You can see the video and download the slides here:
www.getmorehrclients.com/marketing-advice-for-sme-consultancies/webinar/