Episodes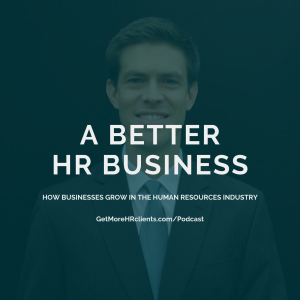 Sunday May 16, 2021
Sunday May 16, 2021
My guest today is Simon Kenwright the Co-Founder of Optimised Talent.
Optimised Talent's goal is to help organisations thrive by transforming performance and wellbeing, via consultancy, on-demand coaching and change programmes.
To see the list of topics as well as all the details of my other guests, check out the show notes here:
www.GetMoreHRClients.com/Podcast
WANT MORE CLIENTS?
Want more clients and/or want to position your agency or consultancy as a thought leader in the Human Resources industry? Check out: www.GetMoreHRClients.com/Services.
Also, if you're looking for more ideas to help you grow your HR-related business, here's something that might help . . .
Check out my free presentation (no signup required) on 10 clever ways that successful consultancies are bringing in more business.
You can see the video and download the slides here:
www.getmorehrclients.com/marketing-advice-for-sme-consultancies/webinar/