Episodes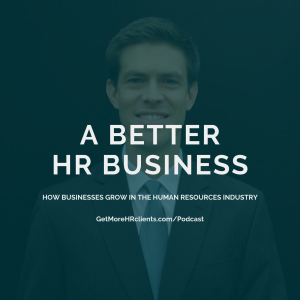 Monday Apr 10, 2023
Monday Apr 10, 2023
The A Better HR Business podcast looks at how consultants and tech firms in the broad Human Resources field grow their businesses; and how they help employers get the best out of their people.
Today I'm joined on the show by Sandrine Bardot from The Bardot Group and Compensation Insider who recently celebrated 10 years as a successful international compensation & benefits consultant for the Middle East & Asia.
In a wide-ranging discussion, Sandrine and I talked about:
How Sandrine began her business life with a simple blog, Compensation Insider.
How Sandrine helps large employers with their total rewards challenges.
Interesting ways to offer consulting services.
Sandrin'es Total Rewards advice for employers.
How Sandrine developed her business and her marketing advice for people in HR businesses.
And much more.
Thanks, Sandrine!
For show notes and to see details of my previous guests, check out the podcast page here:
www.GetMoreHRClients.com/Podcast
WANT MORE CUSTOMERS OR CLIENTS?
Want more clients for your HR-related consultancy or HR Tech business?
Check out: www.GetMoreHRClients.com/Services.
WANT TO START AN HR BUSINESS?
Want to launch your own consulting business in the broad Human Resources sector? Check out: www.GetMoreHRClients.com/Start for resources.