Episodes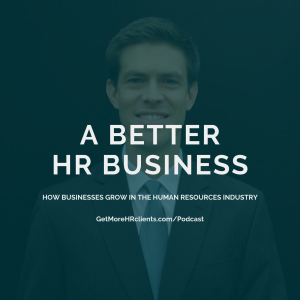 Monday May 01, 2023
Monday May 01, 2023
The A Better HR Business podcast looks at how consultants and tech firms in the broad Human Resources field grow their businesses; and how they help employers get the best out of their people.
Today I'm joined on the show by Dean Mathews, Founder & CEO of OnTheClock, an employee time clock system for small businesses to track employees'​ hours worked and improve payroll processing.
Dean came up with the concept and designed & developed OnTheClock and he continues to help create new features for the app. OnTheClock started as a passion project when Dean noticed a common theme among the accountants - they were unable to find a web-based time clock that was accurate and simple.
Today, OnTheClock has a team of 21 individuals who serve 18,000 small businesses and their employees. While most of the customers are based in the U.S., the company has clients from all over the world. The team comprises dedicated professionals who handle product development, design/graphics, marketing, billing, leadership, and customer support. The company's mission, which dates back to 2004, is to assist small businesses in tracking employee time with greater ease, accuracy, and efficiency.
In a wide-ranging discussion, Dean and I talked about:
How OnTheClock helps employers to manage HR challenges.
How Dean started and grew the business.
Dean's HR and marketing advice.
And much more.
Thanks, Dean!
For show notes and to see details of my previous guests, check out the podcast page here:
www.GetMoreHRClients.com/Podcast
WANT MORE CUSTOMERS OR CLIENTS?
Want more clients for your HR-related consultancy or HR Tech business?
Check out: www.GetMoreHRClients.com/Services.
WANT TO START AN HR BUSINESS?
Want to launch your own consulting business in the broad Human Resources sector? Check out: www.GetMoreHRClients.com/Start for resources.