Episodes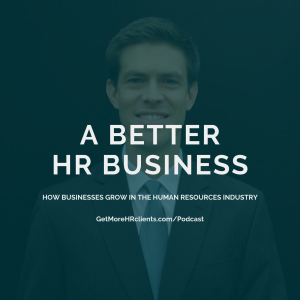 Monday May 08, 2023
Monday May 08, 2023
The A Better HR Business podcast looks at how consultants and tech firms in the broad Human Resources field grow their businesses; and how they help employers get the best out of their people.
Today I'm joined on the show by Jaakko Kaikuluoma from Teamspective to talk about growing an Organizational Network Analysis software & consulting company - with Jaakko Kaikuluoma from Teamspective.
How  Teamspective helps employers.
How Jaakko and the team started and grew the business.
Jaakko's HR and marketing advice.
And much more.
Thanks,  Jaakko!
For show notes and to see details of my previous guests, check out the podcast page here:
www.GetMoreHRClients.com/Podcast
WANT MORE CUSTOMERS OR CLIENTS?
Want more clients for your HR-related consultancy or HR Tech business?
Check out: www.GetMoreHRClients.com/Services.
WANT TO START AN HR BUSINESS?
Want to launch your own consulting business in the broad Human Resources sector? Check out: www.GetMoreHRClients.com/Start for resources.