Episodes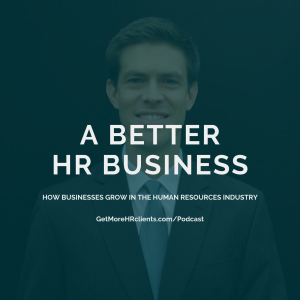 Monday May 22, 2023
Monday May 22, 2023
The A Better HR Business podcast looks at how consultants and tech firms in the broad Human Resources field grow their businesses; and how they help employers get the best out of their people.
Today I'm joined on the show by Neil Kelly, Founder of Talent Sandbox, a complete training solution for Talent Acquisition teams - designed to empower TA teams and individuals that might be new to the profession, transitioning from agency to in-house, or those in need of a refresh.
"Talent Sandbox is where your Talent Acquisition team will learn everything they need to know from the best and most experienced minds in the recruitment industry. Combining real-world experience with interactive technology and blended learning, we've created a better way to learn talent acquisition."
How Talent Sandbox provides structured training for individuals and businesses.
Focus on developing people to improve business metrics and performance, while making learning accessible and inclusive to all.
The limitations of video-based courses and how written content can be more helpful in some cases.
The importance of a growth and learning mindset to keep up with technology and new ways of working.
Their free talent acquisition resources and content.
How Neil and the team are growing Talent Sandbox.
And much more.
Thanks,  Neil!
For show notes and to see details of my previous guests, check out the podcast page here:
www.GetMoreHRClients.com/Podcast
WANT MORE CUSTOMERS OR CLIENTS?
Want more clients for your HR-related consultancy or HR Tech business?
Check out: www.GetMoreHRClients.com/Services.
WANT TO START AN HR BUSINESS?
Want to launch your own consulting business in the broad Human Resources sector? Check out: www.GetMoreHRClients.com/Start for resources.