Episodes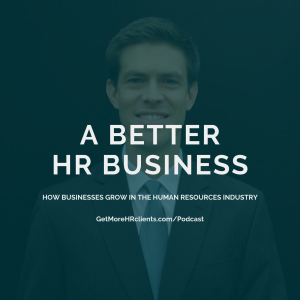 Monday Jun 19, 2023
Monday Jun 19, 2023
The A Better HR Business podcast looks at how consultants and tech firms in the broad Human Resources field grow their businesses; and how they help employers get the best out of their people.
Today we're joined on the show by Adam Botterill,  Co-Founder and CEO of Equal Employer®, an exciting new software company aiming to reduce or remove bias in the hiring and promotion processes, through a human-guided approach.
In April 2021, together with a friend, Adam set out to improve workplace equality after being frustrated by employers ticking boxes and using people as tokens to validate their stance on EDI.
Equal Employer® is a groundbreaking solution that empowers employers to overcome bias during the hiring process and select the most qualified candidates. Their comprehensive software suite includes an applicant tracking system (ATS) auditing tool, which ensures organizations can identify and address bias in their hiring practices.
With the Equal Employer® ATS, organizations benefit from a guided and streamlined hiring and promotion process, saving both time and money. The software maintains the human element in decision-making while implementing robust standards to remove bias. Through a user-friendly mobile and web application, organizations can easily monitor and audit their hiring practices to ensure fairness at every step.
Equal Employer® is committed to providing equal opportunities for all candidates. Their unique process ensures that every decision-making junction offers an unbiased chance to each individual, allowing organizations to attract and select the most suitable and successful candidates for their businesses.
As a recognition of an organization's commitment to fair and ethical recruitment, Equal Employer® offers the highly regarded Equal Employer certification. This certification brings a range of benefits, including performance improvement, cost-saving efficiencies, commitment to DE&I recognition, increased employee retention, enhanced candidate experience, and contribution to an equal society.
Equal Employer® serves as a trusted partner in achieving fair hiring practices and creating a more inclusive workplace. Their mission is to unlock the transformative power of equality and diversity within organizations.
Thanks, Adam!
For show notes and to see details of my previous guests, check out the podcast page here:
www.GetMoreHRClients.com/Podcast
WANT MORE CUSTOMERS OR CLIENTS?
Want more clients for your HR-related consultancy or HR Tech business?
Check out: www.GetMoreHRClients.com/Services.
WANT TO START AN HR BUSINESS?
Want to launch your own consulting business in the broad Human Resources sector? Check out: www.GetMoreHRClients.com/Start for resources.