Episodes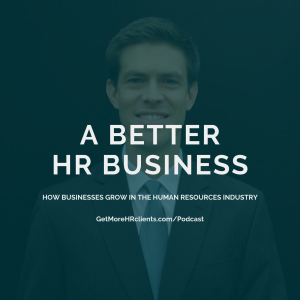 Monday Jun 26, 2023
Monday Jun 26, 2023
Today I'm joined on the A Better HR Business podcast by the amazing Louise Bijesse, President and Principal Consultant of UpTalent Consulting, a successful HR consulting firm that provides people solutions for small to mid-sized startups and tech firms.
Louise is a client of the HR Business Accelerator, a program designed to help professionals in the HR sector to start and/or grow their HR-related businesses. 
Louise was on the podcast previously (see Episode 179) and has very kindly returned to the show to share her experiences of starting her HR consultancy, including the Why and the How of how she created a highly successful business that helps employers resolve their HR and talent challenges.
After helping hundreds of HR-related businesses around the world to start and/or grow through our HR Business Accelerator process, we've come to realize that most HR professionals want some or all of these things when they start an HR business:
Work with great clients.
Work on high-value projects.
Enjoy Work-Life balance.
Become a trusted member of the business community.
Build a team.
Work on cool HR projects.
Make good money.
Solve problems for employers.
Louise's business has checked all of these boxes in a way that is congruent with her ambitions and values.
UpTalent Consulting delivers the tools and advice that help startup companies protect and grow their organizations.
Louise is responsible for planning and implementing HR policies and procedures through her client partnerships with CEOs, Founders, and Presidents. Much focus is on corporate talent development and succession, background checks, employee relations, benefits, and compensation. The company currently works with start-up clients in the United States and Globally (currently UK and Nigeria).
Louise earned a Master of Science from the University of North Carolina at Greensboro, Bryan School of Business, where she was recognized for her leadership in the community. She previously earned a Bachelor of Science in Business, Management, and Economics from the Empire State College, State University of New York.
In a wide-ranging discussion, Louise and I talked about:
Why Louise started UpTalent Consulting.
The HR solutions provided by UpTalent Consulting to startups and rapidly growing companies.
How Louise got started with the business. 
Lousie's experience with the HR Business Accelerator.
Hiring her first excellent employee.
Learnings, advice for others, and what the future holds for UpTalent Consulting (it's exciting!).
And much more.
Thanks, Louise!
Visit UpTalent Consulting. 
The A Better HR Business podcast looks at how consultants and tech firms in the broad Human Resources field grow their businesses; and how they help employers get the best out of their people.
For show notes and to see details of our previous guests, check out the podcast page here:
www.GetMoreHRClients.com/Podcast
WANT MORE CUSTOMERS OR CLIENTS?
Want more clients for your HR-related consultancy or HR Tech business?
Check out: www.GetMoreHRClients.com/Services.
WANT TO START AN HR BUSINESS?
Want to launch your own consulting business in the broad Human Resources sector? Check out: www.GetMoreHRClients.com/Start for resources.